When I first saw this I thought … gaaahhh, it's this invention of the year that I'll gonna eat my words back. You know, it's my nag in my household and my children perfectly learn this by heart not to write anything on the wall, but do the writing on the papers instead.
But I'd probably charge it to innovation, to paint technological advancement that I'm bending my house rules back. This is basically just a paint brushed on the wall that when you write on it, using erasable markers of course, you can easily wipe it like a regular board … I long been thinking if there would come a time that the walls can be used as boards and writing areas in the future … and I think the future is here and I'm thankful to the scientists who probably heard me miles away and came up with this idea, awesome!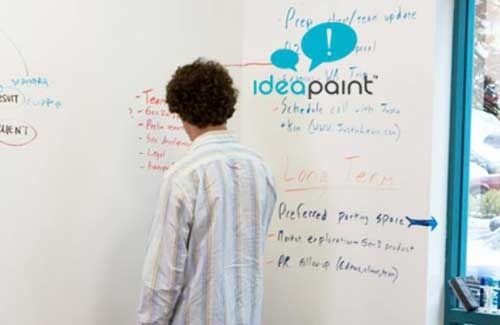 I figured out this is perfect for school classrooms too, kids can just write anywhere without the fear of being scolded by their teachers and moms yelling and punishing their kids to wipe up their
writings on the wall
or even at the office – engineers, architects or anybody who just wanted to draw their stuff not on paper but on the wall – it's your happy days.
I find this a perfect green innovation, cool right? See this video at YouTube;
Tagged: idea paint